Superior performance and personality. The true essence of motorsport runs entirely through the veins of this Supercar.
ACCELERATION
3,5 sec
0-100 km/h
Dark Personality
This car is a highly covetable German exotic. In V10 guise it's stronger and much more rapid than its V8 counterpart. This Audi R8 has a completely different temper, and it feels more enigmatic, capable, and powerful. There's no doubt as to why this vehicle was such a perfect fit for Toni Stark.
A Worthy Contender
As Audi's strong foot into the world of Supercars, you can forget any fragility or flakiness of the classic Italian Supercars, because this model combines the efficiency essential to the brand with the insights gained by the Lamborghini Gallardo production.
R For Ride Quality
This car has been born to transcend all expectations. Spectacular handling, impressive brakes, exhilarating engine note… the dynamics of the R8 are simply a dream. In addition, the all-wheel drive system has benefited tremendously from the adjusted weight distribution.
Versatility And Sportiness
The R8 is all nobility; a real whim to enjoy the sporty driving and the sensations at the wheel with a full equipment and without the roughness typical of many sports cars.
Rent a Audi R8 V10 – by Hours or Days
Please select your pick up date from the calendar
Power Without The Price Tag
Inspired by the R8 LMS GT3 racing car, the R8 has a 420 hp V10 naturally aspirated central engine that shares most of its characteristics with the one that the Lamborghini Gallardo LP560/4 sports. The heart of this Supercar is purposeful, razor-sharp and deep-lunged. It is by far the fastest production Audi of all time.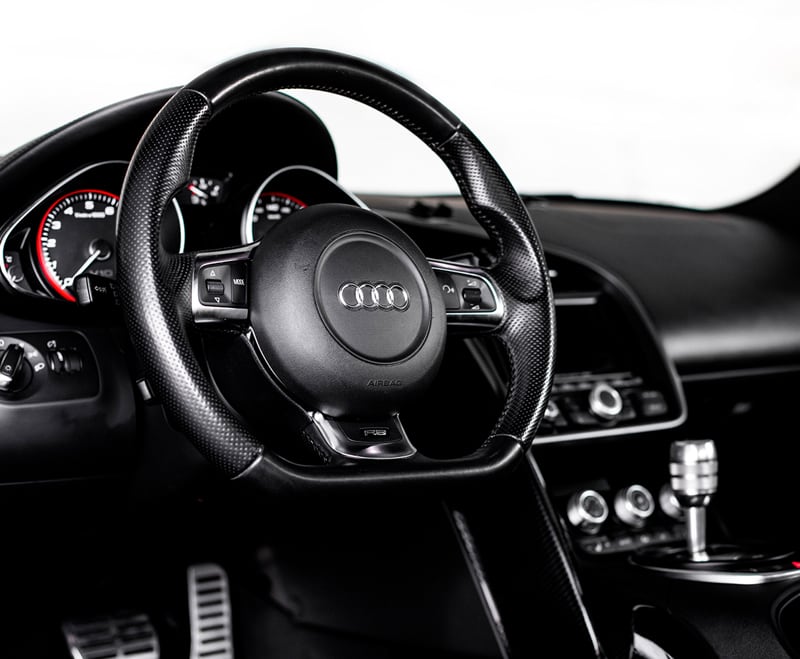 © 2023 Drive Me Barcelona