Live a unique experience behind the steering wheel of a Porsche 911 GT3 RS in Barcelona. Turn your visit in the city into an adventure you will never forget, thanks to the impressive Porsche 911 GT3 RS. Don't waste time or miss the opportunity to rent and drive a high-performance luxury car, either touring the iconic streets of Barcelona or exploring the magnificent landscapes of Catalonia.
Acceleration
3,2 seg
0-100 km/hrs
Power
500 cv
on a 3.0 liter six cylinder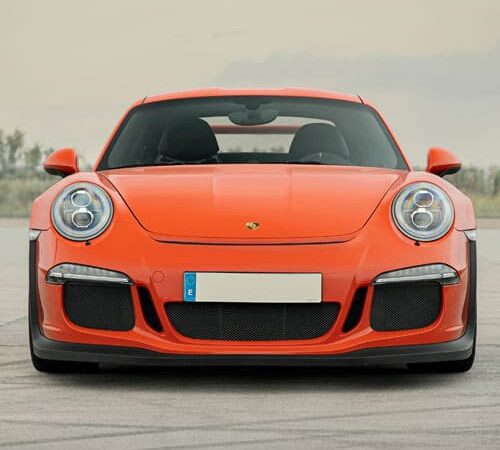 Naturally aspirated boxer engine
Underneath the rear engine cover, the Porsche 911 GT3 RS houses a powerful 4.0-litre naturally aspirated six-cylinder flat-six engine capable of generating an output of 500 hp, together with a maximum torque of 460 Nm. These figures translate into a top speed of 310 km/h and an acceleration capacity that allows it to reach 100 km/h from zero in just 3.2 seconds, and 200 km/h in 10.6 seconds, all while maintaining an outstanding weight/power ratio of less than 3 kg/hp. In addition, it incorporates the efficient PDK dual-clutch gearbox for top-level road and track performance.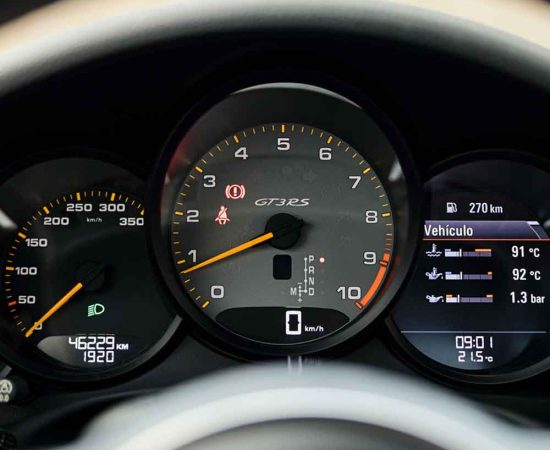 Racing aerodynamics
The most distinctive feature of the 911 GT3 RS is its extraordinary aerodynamic system. Its striking rear wing generates outstanding downforce, which translates into increased cornering grip and impressive stability at high speeds. It is also equipped with strategically placed additional air outlets at the front and rear, playing a key role in managing airflow around and through the car. The meticulously designed front bumper precisely channels air to the front air intakes and air outlets, helping to maintain stability and reduce lift at the front axle.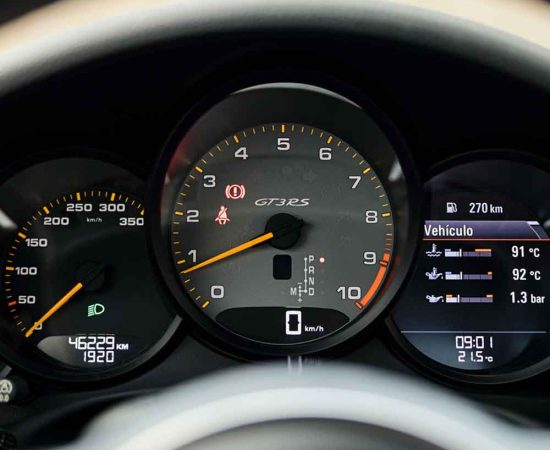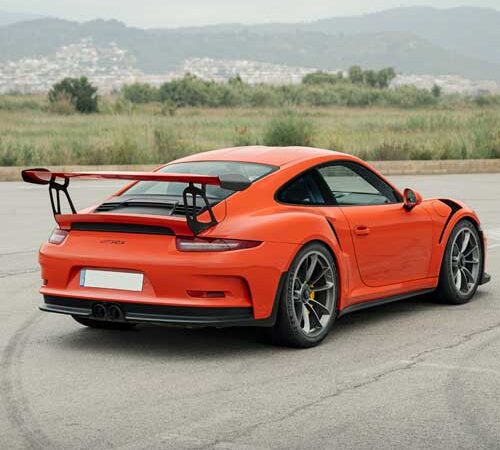 A stunning aesthetic
Its electrifying bodywork in lava orange is integrated with its sophisticated sporty interior, where bacquet seats made of carbon fiber and covered in black leather offer exceptional ergonomics and unbeatable comfort. This design is complemented by distinctive orange touches to match the exterior paintwork, such as the seat belts, door opening handles and the GT3 RS logo embroidered on the headrests. In addition, the cabin features a central touchscreen that provides access to vehicle-specific settings, Bluetooth connectivity, Apple CarPlay compatibility and a navigation system.
More agile, precise and stable
RS models have always been characterized by their impressive driving dynamics, and the 911 GT3 RS takes this to the next level with a high-quality racing sports chassis. It benefits from spherical joints on all arms, offering superior precision compared to the usual elastokinematic bearings. In addition, lightweight 20″ wheels on the front axle improve agility and steering, while 21″ wheels on the rear axle improve traction. The PASM suspension system offers two modes: Normal, ideal for slippery or rainy conditions, and Sport, perfect for sporty dry driving.
Rent Porsche 911 GT3 RS
To reserve, select your Porsche rental date on the calendar.
* To rent your Porsche by the hour or day, you must be at least 25 years old and make a deposit on the day of rental that varies depending on the car selected, between 2.000 € and 9.000 €.
Luxury car experiences in Barcelona
Choose one of our City Tours and discover Barcelona at the wheel of a super sports car with an expert guide at your side.
Drive your supercar from 21 years old and without deposit.
© 2023 Drive Me Barcelona