If you are thinking of renting a luxury car in Barcelona and experiencing the thrill of driving a Ferrari, getting behind the wheel of a Ferrari 296 GTB will be an unforgettable experience. The added bonus is that this stunning hybrid sports car allows you to enjoy 100% electric driving through the iconic streets of Barcelona. Drive a Ferrari 296 GTB and discover Barcelona in a way you never imagined.
Aceleration
2,9 seg
0-100 km/h
Seat
2 semi-buckets
standars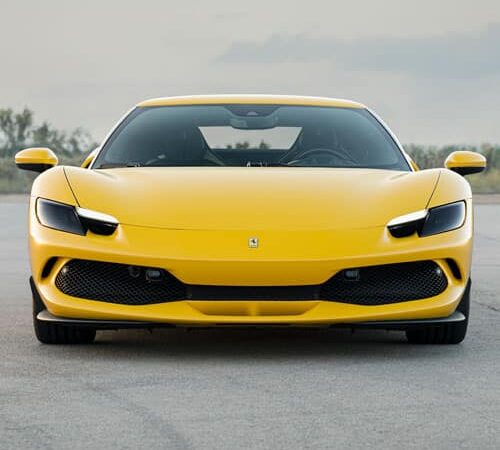 A distinctive exterior design
The Ferrari 296 GTB exhibits a very compact design that is clearly highlighted by its short front bumper, which is sharp and streamlined without being excessively low. At the front, the 296 GTB is characterised by a large air intake, a pronounced carbon splitter and an elongated bonnet. The rear end has a very flat, slightly concave design and is kept low, with a centrally positioned, rather high exhaust tailpipe. Notable features include a downward sloping roofline, door-mounted door mirrors, air intakes located next to the headlights to cool the brakes and side air intakes to cool the engine.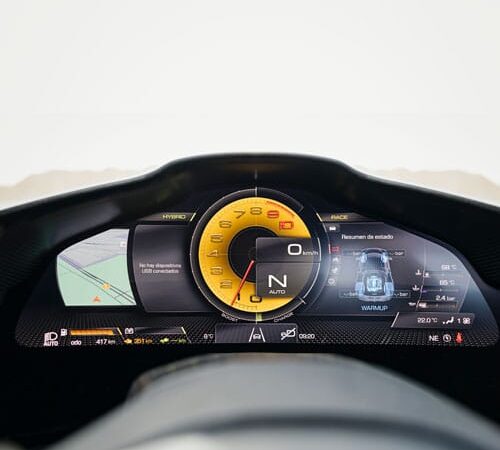 Dream performance
Powered by a plug-in hybrid powertrain, it combines a 3.0-litre twin-turbo V6 engine, capable of producing 663bhp, with an 8-speed dual-clutch automatic gearbox that directs all its power to the rear axle. Alongside the combustion engine, an electric motor is integrated to provide an additional 167 hp, resulting in a massive total output of 830 hp. This astonishing performance enables the 296 GTB to reach 100 km/h from a standstill in just 2.9 seconds, 200 km/h in 7.3 seconds and a top speed of 330 km/h.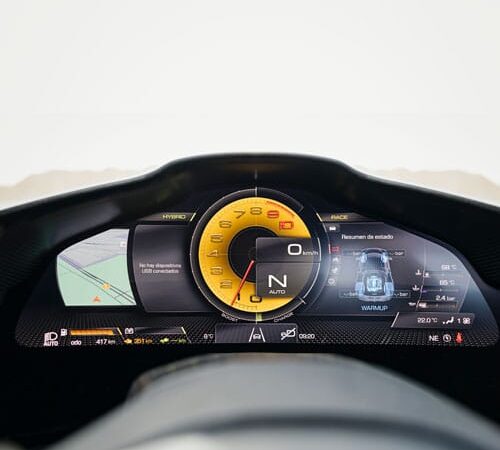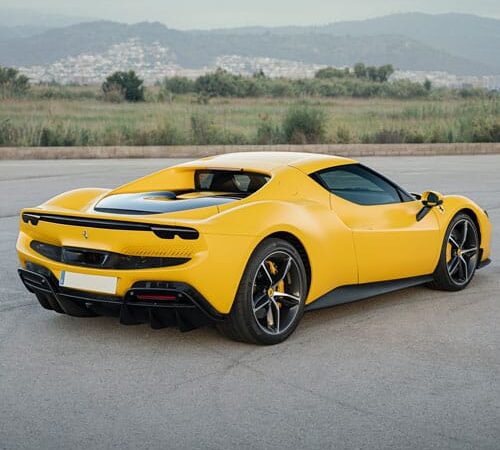 Tailored and safe driving
The Ferrari 296 GTB stands out for its advanced technology, such as the "TMA" decoupling actuator and the "6w-CDS" 6-Way Dynamic Chassis Sensor, which improves electronic control and reduces braking distances. It also features ABS evo, regenerative braking and Side Slip Control (SSC). On the left-hand side of the steering wheel is the eManettino, which allows a choice of four operating modes on its hybrid power unit, from 100% electric driving with the eDrive setting (with a range of 25 km at a top speed of 135 km/h,) to the sportiest Qualify mode. In addition, the iconic Manettino retains three driving modes: Wet, Sport and Race.
Improved interior
The interior is characterised by a minimalist, sporty design, with a large screen behind the steering wheel acting as a digital instrument cluster. On the passenger side, a second screen provides the co-driver with information about the car, such as engine revs and speed. The carbon fibre sport seats are upholstered in black and feature the iconic Prancing Horse embroidered in yellow on the headrests. In addition, the usual buttons and knobs on the steering wheel have been replaced by touch pads, with only the iconic manettino remaining.
Rent Ferrari 296 GTB
To reserve, select your Ferrari rental date on the calendar.
* To rent your Ferrari by the hour or day, you must be at least 25 years old and make a deposit on the day of rental that varies depending on the car selected, between 2.000 € and 9.000 €.
Luxury car experiences in Barcelona
Choose one of our City Tours and discover Barcelona at the wheel of a super sports car with an expert guide at your side.
Drive your Ferrari from 21 years old and without deposit.
© 2023 Drive Me Barcelona