Rent McLaren 765 LT Spider
Get behind the wheel of the exclusive Mclaren 765 LT in Barcelona, our most powerful and special car, a gem of which only 765 units have been produced worldwide. Rent this impressive Mclaren 765 LT and immerse yourself in the experience of driving this incredible luxury supercar in the beautiful city of Barcelona. Whether you want to enjoy a relaxing ride around the city or venture on exciting routes outside the city, don't miss the opportunity to experience the thrill of driving a McLaren.
Acceleration
2,9 seg
0-100 km/h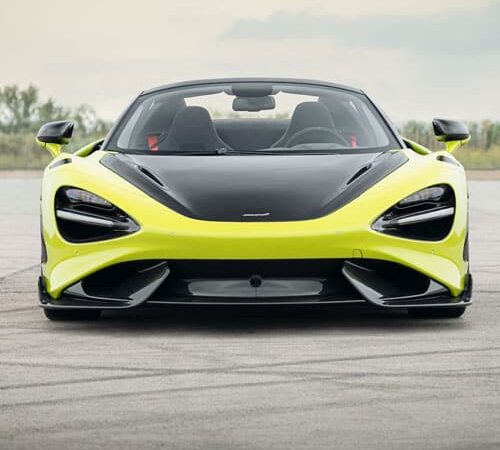 The fleet-footed rocket
The heart of the Mclaren 765 LT is located in the rear center section. A 4.0-liter biturbo V8 engine that deploys an astonishing 765 HP of power and delivers 800 Nm of torque. This extraordinary power is transmitted to the rear wheels through a 7-speed dual-clutch automatic transmission. This combination allows the 765LT to accelerate from 0 to 100 km/h in 2.8 seconds, reach 200 km/h in just 7 seconds and achieve a top speed of 330 km/h.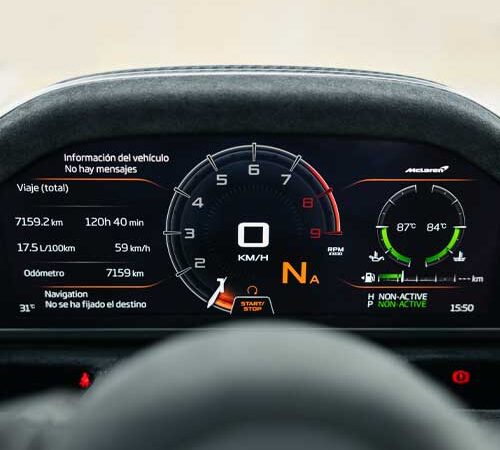 Light as a feather
As the LT (Lightweight) designation indicates, Woking engineers have undertaken a tireless quest to achieve sensational lightness. Taking the carbon fiber chassis as a starting point, details have been further refined, including the use of polycarbonate glazing, a titanium exhaust, ultra-light 10-spoke alloy wheels and extensive use of carbon fibre. The result translates into a total dry weight of 1229 kg and an excellent weight/power ratio of 6.2 kg/CV. Inspired by the Mclaren 720 S, it achieves a weight saving of 80 kg.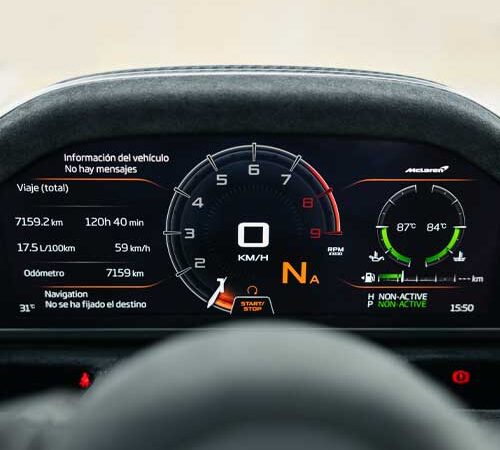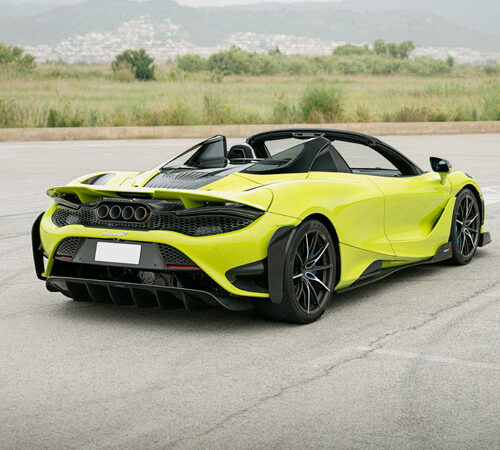 An astonishing design
With a lime green body and an aggressive, aerodynamic design, it reflects its nature as a high-performance supercar. Its focus on aerodynamics is embodied through elements such as its imposing active rear spoiler, lowered suspension and multiple air intakes that improve cooling, all complemented by the extensive use of carbon fiber.
Inside, it features a minimalist, driver-oriented design, where Alcantara and carbon fiber are combined with ergonomic sports seats inspired by those of the McLaren P1. The technology is also integrated with an 8" central touch screen, dual-zone climate control, integrated memory and USB connectivity.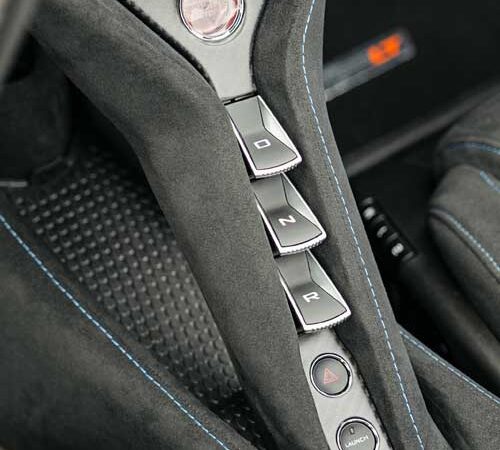 An exclusive car
The McLaren 765LT is a limited edition gem, ours being number 607 of the 765 units produced. This fact means that only a small group of lucky people have the exclusivity of enjoying it, turning each trip into a truly unique and unparalleled experience.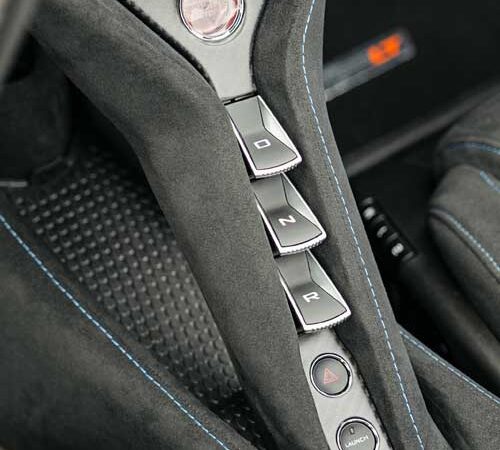 Rent McLaren 765LT Spider
To reserve, select your McLaren rental date on the calendar.
* To rent your McLaren by the hour or day, you must be at least 25 years old and make a deposit on the day of rental that varies depending on the car selected, between 2.000 € and 9.000 €.
Luxury car experiences in Barcelona
Choose one of our City Tours and discover Barcelona at the wheel of a super sports car with an expert guide at your side.
Drive your supercar from 21 years old and without deposit.
© 2023 Drive Me Barcelona