Rent Porsche 718 Cayman GT4
Enjoy a unique experience in a Porsche 718 Cayman GT4 in Barcelona. Rent a Porsche 718 Cayman GT4 and explore every corner of the city, or if you prefer, venture around the Catalan geography. In our fleet of luxury cars in Barcelona, the incomparable experience of driving the Porsche 718 Cayman GT4 awaits you; secure your reservation and don't miss this opportunity.
Acceleration
4,4 seg
0-100 km/hrs
Power
420 cv
3.0 liter six cylinder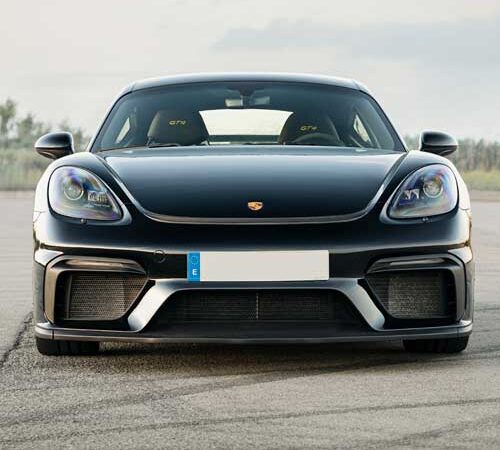 Sheer power
Equipped with a 4.0-litre naturally aspirated horizontally opposed six-cylinder engine, the Porsche 718 Cayman GT4 unleashes a staggering 420 hp and reaches a top speed of just over 304 km/h (120 mph). This impressive power translates into acceleration from 0 to 100 km/h in just 4 seconds, making it an ideal vehicle for both track and speed lovers. In addition, its seven-speed PDK dual-clutch automatic transmission combines the convenience of an automatic transmission with the agile capability of a manual gearbox.
Acurrate and agile
Its exceptional handling and agility will astound you. Equipped with an adaptive suspension offering two levels of stiffness, highly precise steering and a superb power-to-weight ratio of 3.56 kg/hp, it provides outstanding cornering stability and allows for a smooth weight transition when changing direction.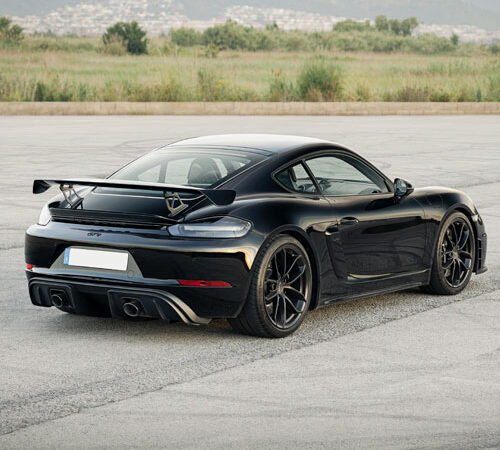 A tune from another world
The high-performance boxer engine delivers a deep and powerful sound, providing an immersive ambience as you rev up and experience its full potential. Its sports exhaust system allows you to adjust the sound of the exhaust, so you can opt for a softer, more discreet sound for everyday driving or a louder, sportier sound for a wilder experience.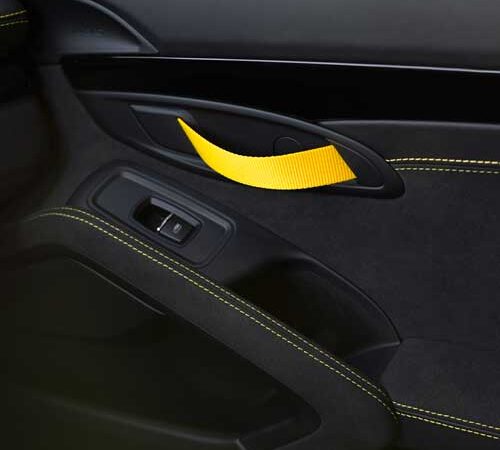 An interior full of details
With an elegant black interior trimmed in Alcantara and accented with distinctive yellow accents, such as the seat belts and door handles, the Porsche 718 Cayman GT4 radiates sportiness from the moment you sit in the cockpit. In addition, the Sport Plus bucket seats with their carbon fibre construction offer exceptional comfort and optimum support in the sharpest corners.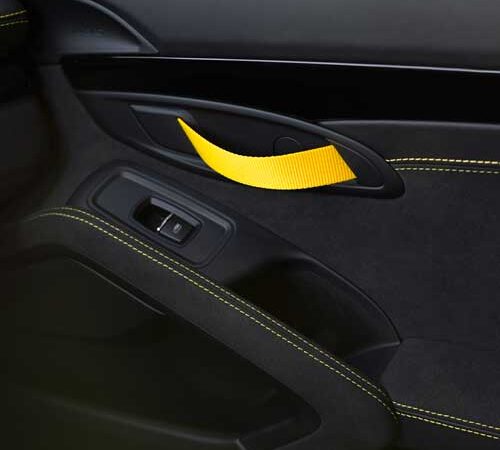 Rent Porsche 718 Cayman GT4
To reserve, select your Porsche rental date on the calendar.
* To rent your Porsche by the hour or day, you must be at least 25 years old and make a deposit on the day of rental that varies depending on the car selected, between 2.000 € and 9.000 €.
Luxury car experiences in Barcelona
Choose one of our City Tours and discover Barcelona at the wheel of a super sports car with an expert guide at your side.
Drive your supercar from 21 years old and without deposit.
© 2023 Drive Me Barcelona