With a cockpit inspired by F1 cars and a 4.5 V8 direct injection engine, the 488 could be the most beautiful and aggressive cavallino of recent times.
ACCELERATION
3,0 sec
0-100 km/h
POWER
670HP
V8 4.5 Engine
The Essence of Grandeur
Its slender lines and aerodynamic appendages on the back are enough to make it, indisputably, one of the most beautiful and aggressive cavallinos of recent times. Some of the visual highlights include a rear diffuser with variable flaps, the central Aero Pillar and a brilliantly elegant blown spoiler – the same as on the GTB – for maximum downforce.
A Cockpit Like No Other
Lose yourself in the surrounding and elegant cockpit, where you will find a wheel inspired by the Formula 1 cars with the famous manettino in the lower right side that raises your driving experience to another level.
The Pride of a Legacy
We are in front of a definitely deep update of its predecessor – the Ferrari 458 Italia. The 488 continues a bloodline that began with 1975's 308 GTB, but this model merciless technological advances leaves us with an outstanding result: its colossal performance.
Feel Like a Pro
Over all, the most impressive part of driving the 488 Spider is its handling. The magnetic dampers excel in their job, keeping everything tied down, while filtering out rough surfaces. This Supercar definitely makes anyone feel like a professional F1 driver.
Rent a Ferrari 488 Spider – by Hours or Days
Please select your pick up date from the calendar
Music to Your Ears:
You have never heard anything like it. Our Ferrari 488 Spider comes with a Full Akrapovic Exhaust System that not only increases performance, but offers an unparalleled intoxicating melody that infuses the deep sound of the already potent V8 engine with the inimitable Akrapovic note.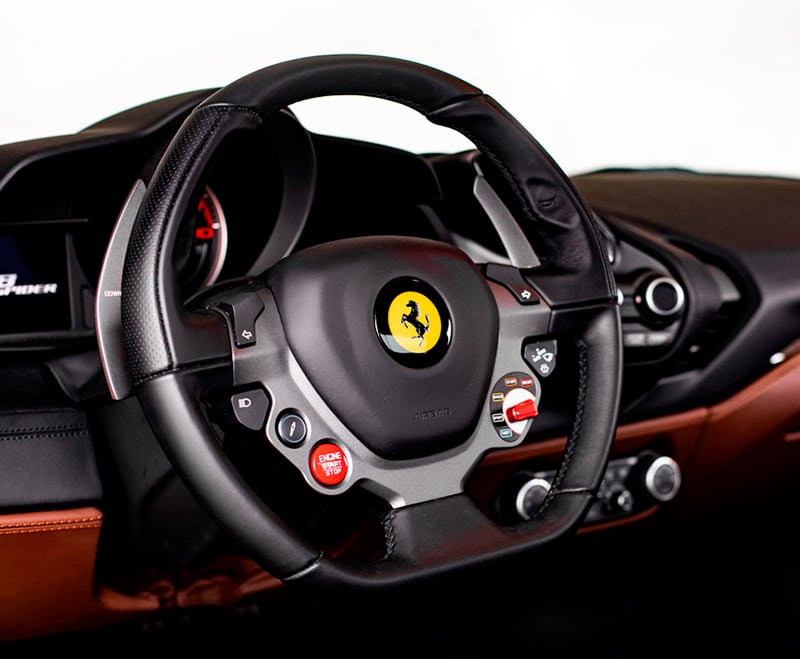 © 2023 Drive Me Barcelona