The Ferrari Portofino is pure versatility and design. Sitting behind the wheel of this car is an assured dose of adrenaline and dynamism.
ACCELERATION
3,2 sec
0-100 km/h
POWER
590HP
V8 Twin Turbo Engine
From The West Coast to the Italian Riviera
It is the new bet of Ferrari to replace the California, with more harmonious, elegant, and muscular lines than that of its predecessor. There's an all-new single-piece aluminum chassis that uses 12 different alloys, while the California's consisted of 21 separate components.
Your Wish is My Command
It has a completely renovated, distinguished, and sporty interior, designed from years of feedback from some of Ferrari's most important drivers, making it the most market-researched Ferrari ever made.
Harder, Better, Faster, Stronger
A robust and vigorous car, the Portofino is 35% more rigid than the California T, but weighs 80kg less. The reworked V8 Twin Turbo engine also makes it faster than prior models of the same range.
Pleasure Above All
A noble sport car like few, this vehicle offers a sublime ride quality, superb usability, and an irresistible sound. This Supercar is able to provide a driving pleasure worthy of the best supercars.
Rent a Ferrari Portofino – by Hours or Days
Please select your pick up date from the calendar
Under The Hood:
You will find an award-winning V8 twin-turbo engine, mounted in a central position underneath the hood. Its 3.9 liters are supercharged by two turbos that declare 590 CV at 7,500 rpm. Although it is a turbo-engine, it offers a sound note to frame, so intoxicating that it'll give you goosebumps.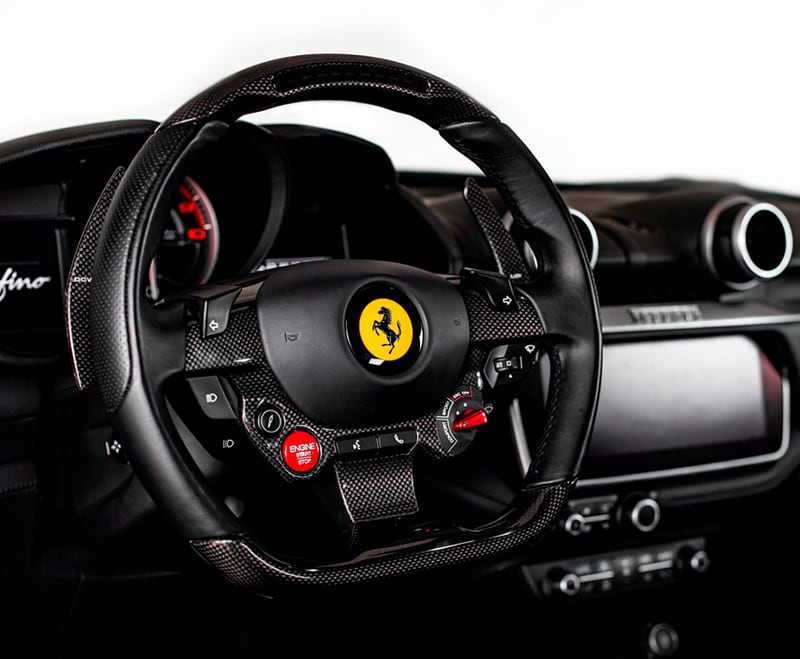 Experiences with the Ferrari Portofino
© 2023 Drive Me Barcelona