Mobile World Congress with Drive Me Barcelona
2017 Mobile World Congress with Drive Me Barcelona
It is February in Barcelona and having left the New Year/Christmas madness from the past months, we are now reintroduced to the Mobile World Congress. Is that time of the year once again and we couldn't be more exited.
The Mobile World Congress (MWC) is considered as one of the world's biggest industry events. The Mobile World Congress is a massive exhibition that attracs hundreds of companies to Barcelona. It is also an outstanding networking opportunity and much more. It is a land mark event that will bring a magnifying scope of attention to Barcelona.
We are excited because MWC gives us an opportunity to share and show hundreds of visitors the very best of this beautiful city through our supercar experiences and tours. However, MWC also presents us with an opportunity to show you how to make your trip to Barcelona worthwhile during your free time.
The Mobile World Congress takes places each year in the Fira Gran Via and the Fira Montjuic. They are both located a coin drop away from one of the city's iconic tourism landmarks, Plaça d'Espanya. This area is fantastic because it is bursting with great restaurants, top shops and amazing views of the city. It is also home to the Museu Nacional d'Art de Catalunya which hosts a stunning Romanesque, Gothic and modernista collection; all of which are unmissable! You can see the museum from the convention centre and it is your introduction to one of my favorite places in Barcelona; the hill of Montjuic.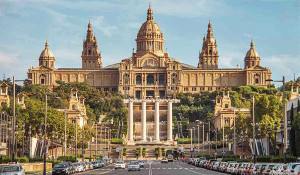 Montjuic holds a lot of history and offers plenty of options for what to do during your down time. You can find the Fundació Joan Miró, a museum that houses a collection of hundreds of paintings, sculptures and graphic work by Miró. But if art is not your cup of tea, look no further!
Montjuic was also the site of the 1992 Summer Olympics. All within walking distance, you can visit the Olympic Stadium, the Olympic Ring, as well as the venues of the Olympic swimming and diving events. Moreover, Montjuic was also home of a different iconic event. The slopes and roads of Montjuic once hosted the Spanish Grand Prix Formula One race during the 1970's.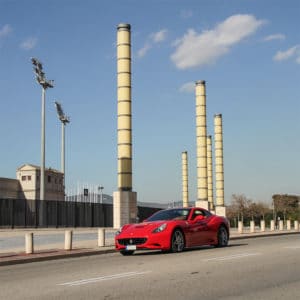 Make the most of your time at the Mobile World Congress this year exploring these and various other attractions with our Barcelona City Tours. Explore Montjuic and the Old F1 Circuit  in Barcelona. Drive the car of your dreams, discover more and experience the city like never before.  We encourage you to discover the best Barcelona experience with Drive Me Barcelona. Drive one of our many luxury supercars today!
The Mobile World Congress will take place at the end of February kicking off on Monday 27th and continuing on through Thursday March 2nd. We encourage you to discover the best Barcelona experience with Drive Me Barcelona.
Plan your activities now,

book onlin

e

, or contact us at sales@drivemegroup.com