A road car that has been disassembled, strengthened and sharpened to compete on Sundays in the circuit. And what a road car!
ACCELERATION
3,4 sec
0-100 km/h
POWER
500HP
4.0-liter flat six
Car and driver in tune
The driver's position is practically perfect, both at the level of reach and the height of the steering wheel. Being a lightweight supercar, it is better to keep the weight down. If you want to know what it is to move in tune with a car you should try the Porsche 911 GT3. Simply outstanding.
An awesome machine
Six atmospheric 4.0 liter boxer cylinders (the exception that confirms the rule), with the red zone at 9000 rpm, this machine delivers a power of 500 hp, making it one of the best supercars of the moment.
Divine melody
Demonic but delicious. What most attracts the attention of this car is the sound of its roar. Divine. It is difficult to find an engine with such a particular sound in the market. Only the V10 of the Huracan and the R8 could get to compete.
God bless PDK!
Porsche may have done well to listen to the most purists and designed this new GT3 with manual gearbox. But, although the driving may be more interactive, with the PDK it is simply amazing.
Rent a Porsche 911 GT3 – by Hours or Days
Please select your pick up date from the calendar
A look inside:
Surprisingly, it is a fairly spacious supercar in the front. And that, combined with the fact that the rear seats are abandoned for greater weight savings, thus leaving more space for luggage, makes this one of the most practical luxury sports cars on the market.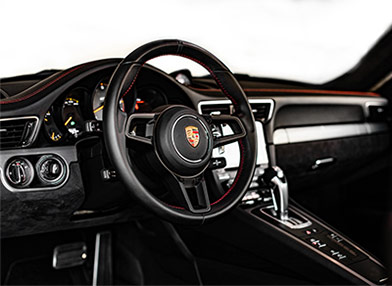 © 2023 Drive Me Barcelona