Speed, style and emotion reach their maximum expression in the Ferrari F8 Spider. Its imposing design and exceptional performance come together to offer an incomparable driving experience. Rent this impressive luxury car in Barcelona, and enjoy the sea breeze of Barceloneta, as well as the majestic landscapes of Catalonia through our various routes. Don't wait any longer to experience the thrill of driving a Ferrari by renting the Ferrari F8 Spider.
Acceleration
2,9 seg
0-100 km/hrs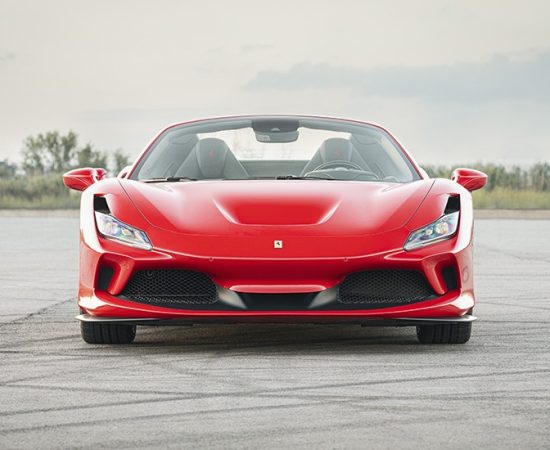 Feel the roar in the open sky
Taking inspiration from the iconic F8 Tributo Berlinetta, the Ferrari F8 Spider features a unique feature: its retractable roof. This innovative system allows you to fold and hide the roof at the rear in just 14 seconds, even while traveling at speeds of up to 45 km/h, offering you a unique experience that will allow you to hear the furious roar of its engine.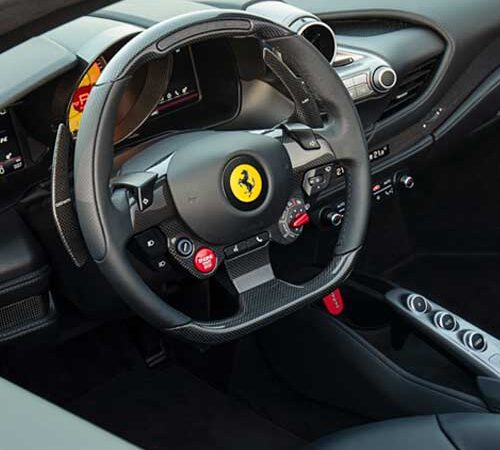 Mind boggling power
Powered by a twin-turbo V8 engine, the Ferrari F8 Spider generates an astonishing 720 hp. Thanks to this formidable power and its rear-wheel drive, it is capable of accelerating from 0-100 km/h in less than 3 seconds and reaching a top speed of around 340 km/h, making it one of the fastest supercars in the world.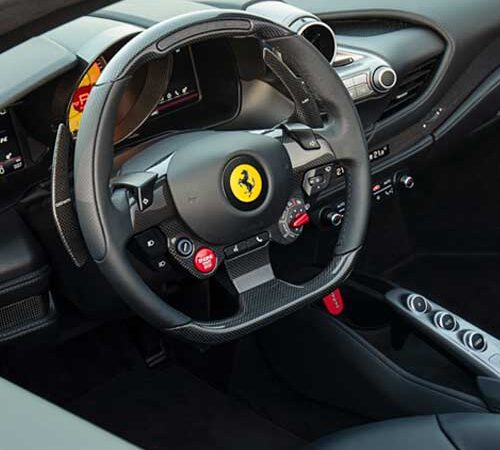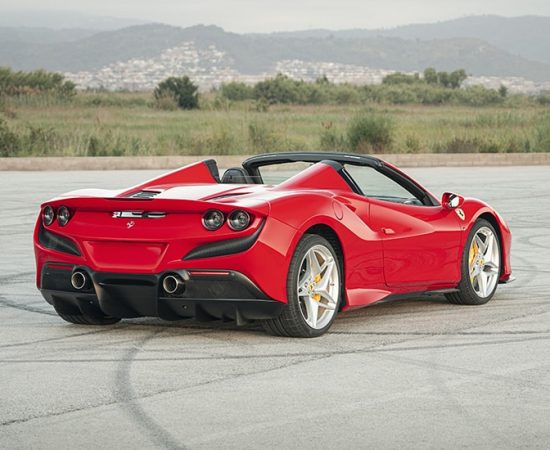 Outstanding aerodynamics
Its aerodynamic design has been meticulously honed to achieve an exceptional balance between style and functionality, resulting in an improvement in aerodynamic efficiency of more than 10% over its predecessor, the Ferrari 488 Spider. The movable rear wing automatically adjusts according to driving conditions and speed, while the rear diffuser helps to reduce air pressure under the car, generating a suction effect that significantly improves traction and stability, especially when cornering at high speeds.
The union of luxury and Italian craftsmanship
With an interior of exceptional quality, the Ferrari F8 Spider will leave you speechless. Its black leather seats, enhanced with the iconic red embroidered Prancing Horse on the headrests, are complemented by carbon fibre detailing and a central rev counter that stands out in vibrant yellow.
Rent Ferrari F8 Spider
To reserve, select your Ferrari rental date on the calendar.
* To rent your Ferrari by the hour or day, you must be at least 25 years old and make a deposit on the day of rental that varies depending on the car selected, between 2.000 € and 9.000 €.
Luxury car experiences in Barcelona
Choose one of our City Tours and discover Barcelona at the wheel of a super sports car with an expert guide at your side.
Drive your Ferrari from 21 years old and without deposit.
© 2023 Drive Me Barcelona