Top 10 summer activities in Barcelona
At Drive Me Barcelona we believe that everyday has to be special, that's one of the keys to happiness, but some days are more special than others especially when you are travelling
That´s why we have dropped the price of our Supercar tours. The price of our routes now start from only 69€!
No, we haven't lost our mind,  it's just that we want our clients to be completely happy and satisfied, we care about you and you care about your wallet!
We understand what it's like to come to Barcelona as a tourist: a whole city to explore, a splendid region surrounding it and the feeling that you won't have time to see everything properly. The team of Drive me Barcelona can't walk for you but we can (and will) help you with 69 recommendations that we are sure that you will enjoy as much as we did when we discovered them.
Pick your favorite ones, adapt them to your planning, grab your bag and get ready to live one experience that you will remember forever.
To get you started here are 10 of our favourites!
The ultimate cool (and cold) experience in Barcelona; Sip on a cocktail with friends or co-workers served in a glass made out of ice. Jacket and gloves are included in the price, starting from 17.50€ for adults. Perfect for cooling down in the hot Spanish summer.
Contact:-  + 34 645 851 691
Dance your Sunday´s away overlooking beautiful views of Barcelona while listening to world-renowned Djs. The W Hotel has the perfect pitch at the corner of the beach overlooking the sea.  You do not need to be checked-in to enjoy its ambience and luxury. If you are lucky you might meet some of the Barcelona's celebrities…
Contact :- +34 93 295 28 00
A mixture of cultures, oriental and asian food with a mediterranean touch. Sitting on comfy chairs enjoying the weather while your drink a pitcher of sangria is a great way to relax after a long day of sightseeing. Also this place turns into a club at night.
Contact normal:-  +34 932 240 470
Reservations VIP:-  +34 647 779 999
Or in English: The fairies wood, it's a local bar decorated as a tale. Located close to Las Ramblas and the city's port, it's one of the emblematic places of the city where you can chill and enjoy a magical experience. The sound of a fountain river, the mysterious darkness, the lightning, the woods-like decoration,  sometimes even rain and thunder sounds… Definitely a must.
Contact :- +34 933 17 26 49
Get the day started with a stunning view over Las Ramblas at the rooftop terrace "La Isabela" of the Hotel 1898. Relax in their  lounge chairs and enjoy its exquisite home-made tapas and delicious cocktails. During the summer months, you can also start the day by having a delightful breakfast overlooking the city.
Contact :- +34 935 52 95 52
Are you a cat lover? Then Barcelona's first cat coffee is a must for you. Located in the Gracia district, it is the ideal place to relax, play with the cats or try read a book if the cats decide that they allow it. All the animals are ready for adoption, so if you fall in love with one of them (and you will) you may as well take them home. A reservation is recommended.
Contactar:– catcafe@espaidegats.com
Would you like to travel back in time 6.000 years? Not possible (yet) but you can come close to it by visiting the Gavá mines, archaeological ruins of an ancient city and the mines that were used to extract Variscite mineral to make jewelry.
Contact:- +34 900 66 33 88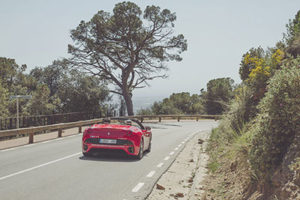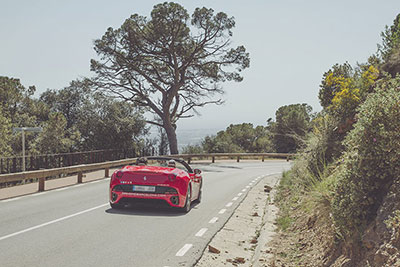 The historic and nature rich Montjuic, a green space at the center of the city with beautiful gardens, parks and buildings such as the Castle of Montjuic or "El poble espanyol".  Also you could enjoy the 40 min route with a supercar on the old Urban F1 circuit of Barcelona. To find out more about our Montjuic and Old Urban F1 Circuit tour clink the link below. 
Book Now – 40 min drive in a luxury Supercar
Montjuic cemetery
Walk through the beautiful city in peace and tranquility. Opened in 1883, it reveals funerary architectures of the finest art with magnificent sea views and Mediterranean trees. It is also the place of burial for some of Barcelona's famous people like Joan Miró, Isaac Albeniz (a great pianist) or Ramon Casas (painter and intellectual of the time)
The vision and genius of this world famous architect earned Barcelona, the home of nearly all his buildings, a privileged place in the journals of the history of art. Be guided around his buildings and learn of the double-edged genius, aesthetic and technical, of his extraordinary imagination. Enter his world of fantasy and geometry. Don't leave Barcelona without truly understanding some of his more exceptional works. And you needn't waste time queuing at museums: your licensed guide will take you straight in.
These are the first 10 recommendations, stay in touch for the next 10.
Don't forget to book with us for the best experience of all!
Drive a Supercar for only 69€ –

BOOK NOW